---
Your next stop at the gas station may not be for gas.

Whether you're ready to go all-electric or explore the possibilities, here you can find the vehicle that complements your lifestyle. The all-electric 2021 Bolt EV offers up to an estimated 417 kilometres† of pure electric range on a full charge.
Bolt EV experts answer real questions

Frequently asked questions

A 120-volt charge cord comes standard with the Bolt EV†. The available 240-volt (32-amp/7.2 kW) charging unit is the most convenient way to charge at home – however, it does require professional installation. For Bolt EV, using a 240-volt charging station can provide a full charge in as little as 10 hours at 32 amps.†
You can find the available 240-volt charging unit at Bolt EV certified dealers and online at GM Accessories. Our partner, Webasto, provides a convenient, easy-to-use solution for home installation. Otherwise, be sure to talk to a certified electrician about installation costs and incentives in your area.
Plus, with Programmable and Location-Based Charging options, you can easily set your Bolt EV to take advantage of off-peak utility rates to help save money. Also check with your local electricity utility provider about off-peak electricity rates that may be available, as well as potential incentives or rebates they may provide for installation of home charging units.†
The standard 8-inch diagonal Driver Information Centre and 10.2-inch diagonal colour touch-screen displays in the Bolt EV as well as the available myChevrolet® Mobile App† make it easy to track your energy efficiency and charge status.
On the 8-inch diagonal Driver Information Centre, you can select from three different displays with varying levels of information:
Classic: Battery charge level and range estimate, plus efficiency indicator with solid green or yellow bar.

Modern: Battery charge level and range estimate, plus efficiency ball to track performance.

Enhanced: Battery charge level with confidence gauge (estimated high and low range based on recent driving), power gauge, and efficiency ring.
On the 10.2-inch diagonal colour touch-screen, simply select the "Energy" button to access the Energy Screens, which feature:
Power Flow: Presents a diagram of the car to show its current operating condition and highlights active components. This means you can see how features such as regenerative braking† actually work during your commute.
Charging Information: Displays your charge status, charge time settings and charge level settings based on the type of charging equipment you use.
Efficiency History: Stores information on how you drive for up to 80 kilometres and utilizes a bar graph to represent the energy used as you drive.
Energy Details: Breaks down the percentages of energy used for Driving and Accessories, Climate Settings and Battery Conditioning. At a glance, you can see how much power is going toward your heating and cooling levels.
Energy Usage Score: Calculates an index score based on driving technique, terrain, climate settings and outside temperature. This allows you to make adjustments to optimize energy consumption and maximize your score and range, if you'd like.

With the available myChevrolet® App†, you can remotely start and precondition your vehicle while it's charging, monitor your charge status, view diagnostic information and more – all with the tap of a finger.
The Canadian Federal government recently introduced a point-of-sale incentive program of up to $5000† for consumers who purchase or lease certain zero-emissions and plug-in hybrid vehicles like Bolt EV. For complete details on the Federal Incentives for Zero-Emissions Vehicles program, click here


Purchasers and lessees of new Bolt EV models registered in Quebec and British Columbia may also be eligible for additional Provincially-run incentives of up to $8000 and $3000 respectively. That means a total potential Government incentive of up to $13,000† in Quebec and up to $8,000† in British Columbia towards the purchase or lease of a new Bolt EV, subject to terms and conditions. Click here to learn more about Quebec's Electric Vehicle Incentive Program. And here to learn more about British Columbia's program.
It will cost an estimated average of $463 a year to charge Bolt EV, based on EnerGuide Fuel Consumption data for an annual driving distance of 20,000 km and an average electricity price of $0.13 per kWh. So the savings add up big time. Calculation based on 2021 model year Bolt EV, for more information see vehicles.nrcan.gc.ca.
Bolt EV offer owners peace of mind with 8 years or 160,000 km Drive Motor Battery and electric drive Component Limited Warranty (whichever comes first).†
Owning a Bolt EV requires less maintenance than a gas vehicle since there are no oil changes or engine upkeep. Here are a few things you'll need to keep up on:
Rotate your tires every 12,000 kilometres.
Replace the cabin air filter every 36,000 kilometres.
Check your brakes, hoses and fluid levels periodically.
These services can all be performed at any Chevrolet Bolt EV-certified dealer. Refer to the Owner's Manual for complete maintenance details and schedules.
When operating traditional gas vehicles, certain driving behaviors or weather conditions can impact your fuel efficiency. The same realities apply to electric vehicles. Depending on how you drive or how you adjust the climate settings, your range will be affected. But, with Bolt EV's estimated range of up to 417 kilometres of electric range per full charge (based on 2021 model year),† there's plenty to go around.
When it comes to weather and range variation, here are a few things to consider:
Outside temperature: Unfortunately we can't control the elements, but it's important to remember that outside temperature will affect range. Luckily the Bolt EV battery pack has an active thermal management system and liquid-cooling loop to allow the vehicle to operate in extreme hot and cold climates.
Your driving technique: Being a little heavy-footed on the accelerator will impact range efficiency, just like with a gas vehicle.
The terrain: Living in a hilly or flat area could impact your range. Regenerative braking features such as Regen on Demand™† and One Pedal Driving† help restore more energy into the battery. And by enabling Hill Top Reserve – which allows you to stop the charge before the battery is full – you can leave space for "free" regenerative energy when driving downhill from a higher elevation immediately after charging.
Climate control settings: Some like it warm. Some like it cold. Whatever your preference, when the heat or air conditioning is in use, energy is pulled from the battery. But there are ways you can reduce energy usage and improve range. Be sure to use the heated seat feature, because heating the seat uses less energy than heating the vehicle interior. And you can precondition your car while it's still plugged in to reach just the right temperature before you step inside. This way, power is pulled from your electrical source rather than from your battery.
Getting the most from your Bolt EV in cold weather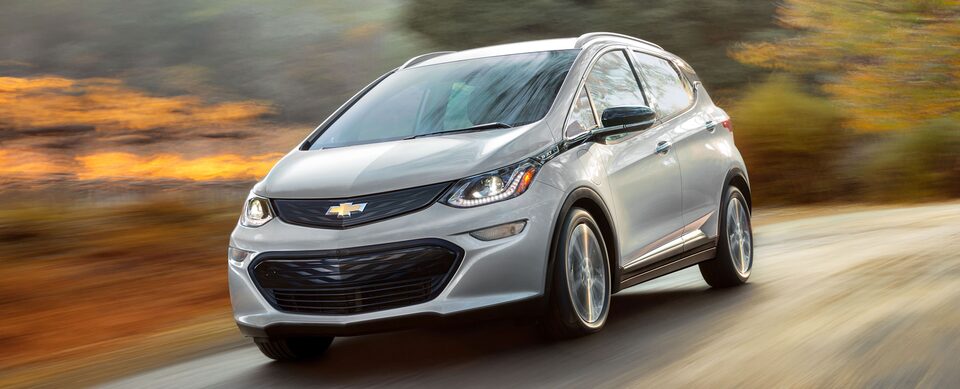 As temperatures fall, it's important to know that your vehicle's electric range will be affected. Most Bolt EV owners will see variances in their electric range depending on outside temperature, terrain and driving technique.
Here are a few tips that may help maximize electric range as the thermometer dips:
Smart Cabin Heating – Precondition While Plugged In: using energy from the grid to warm the cabin allows you to reserve stored battery energy for driving. Using the available 240-volt charging unit provides the maximum benefit (professional installation required).
Tire Pressure Makes a Difference: properly inflated tires can help improve electric range.
Keeping Warm on the Road: Use the heated seats and heated steering wheel to keep warm. Engineers say that it taks less energy to heat your body through the seat than heating the entire cabin.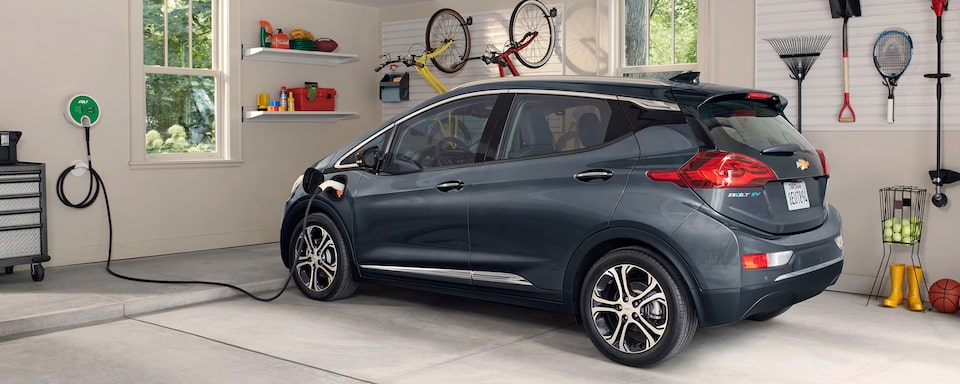 When it comes to learning about plug types, how long it takes to charge your EV or where to find charging stations – we've got you covered.

You already charge your smartphone, laptop or tablet every day. Our electric vehicles easily fit into that same routine even though depending on how far you drive you may not need to charge them every day. From plug types to wall outlets and charging time, discover how easy it is to drive electric.
When it comes to what you need for Chevrolet electric vehicles, we've narrowed it down to these specific outlets and chargers.
---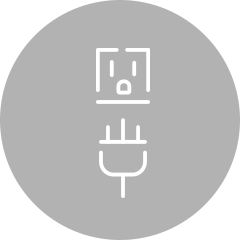 ---
You already have these 120-volt wall outlets everywhere in your home
This type of 3-prong ("grounded") outlet is required for electronics such as your laptop or television
Chevrolet electric vehicles come with a portable charge cord that is compatible with this wall outlet
---
---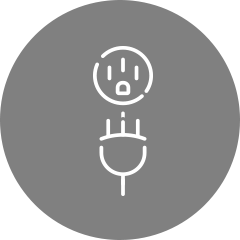 ---
This is one example of a 240-volt wall outlet. It's a 3- or 4-prong outlet that's typically used for larger household appliances like your electric stove or dryer
If you already have one of the above appliances, you can add an additional outlet to support Level 2 charging
This type of charging unit is recommended for a faster charge, but it must be purchased separately and professional installation is required. Click here for charge units available through Chevrolet Accessories
There are a variety of 240-volt plugs available, so consult with your electrician to discuss your specific situation
---
---
---
This charging port is compatible with Level 1 and Level 2 chargers
Level 1 is a portable charge cord that comes with Bolt EV†

Level 2 chargers are wall units that are the fastest way to charge at home and provide up to 40 kilometres of range per hour†
If you prefer this option, it will need to be installed by a professional electrician
Most public stations are Level 2 chargers, so it's easy to charge on the go
---
---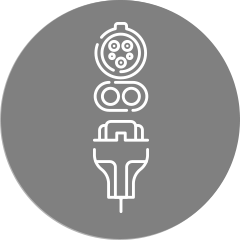 Available DC Fast Charging

---
Bolt EV is equipped with DC fast charging capability, so where DC Fast Charging is available at conveniently located public charging stations and provides up to 145 kilometres of range in about 30 minutes of charge†
Level 3 charging ports are compatible with Level 1 and Level 2 chargers, but your Bolt EV must be equipped with DC Fast Charging capability to use a Level 3 charging station
If you're interested in owning a Chevrolet Bolt EV with DC Fast Charging capability, just let your dealer know at the time of purchase
---
RECOMMENDED AVAILABLE 240-VOLT/32-AMP† CHARGING UNIT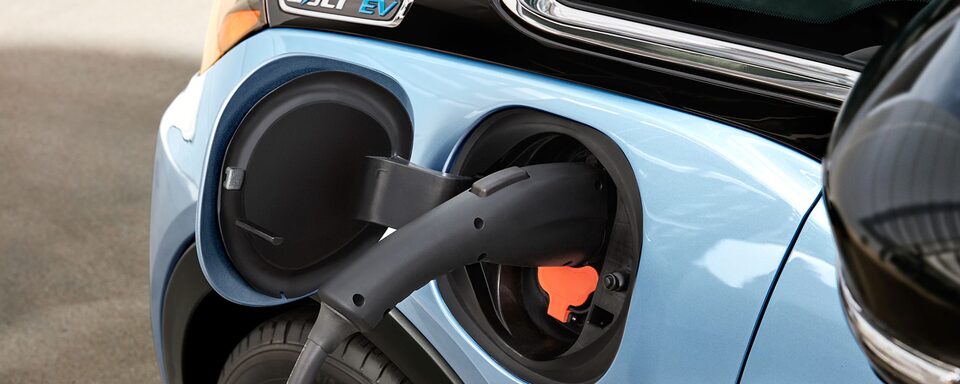 Bolt EV comes with standard 240-volt charging capabilities. The available 240-volt charging unit is the fastest, most convenient way to charge at home.
The fastest way to recharge your battery at home (professional installation required)
Up to 40 kilometres per hour of charge
Easily top off your charge
If you drive an average commute of 64 kilometres, you could fully replenish the battery in less than 2 hours
Offers more power than the standard 120-volt outlet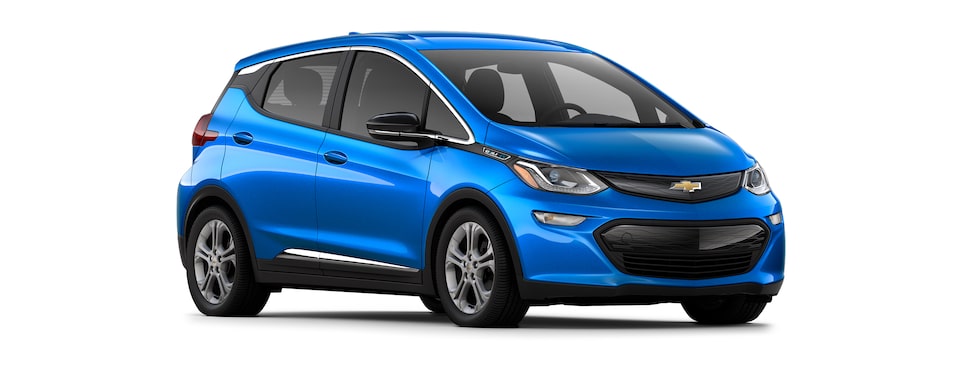 {{starting_price}}{{starting_price_disclosure}}
STARTING MSRP
UP TO AN ESTIMATED 417 KILOMETRES† OF ELECTRIC RANGE ON A FULL CHARGE
(BASED ON 2021 MODEL YEAR)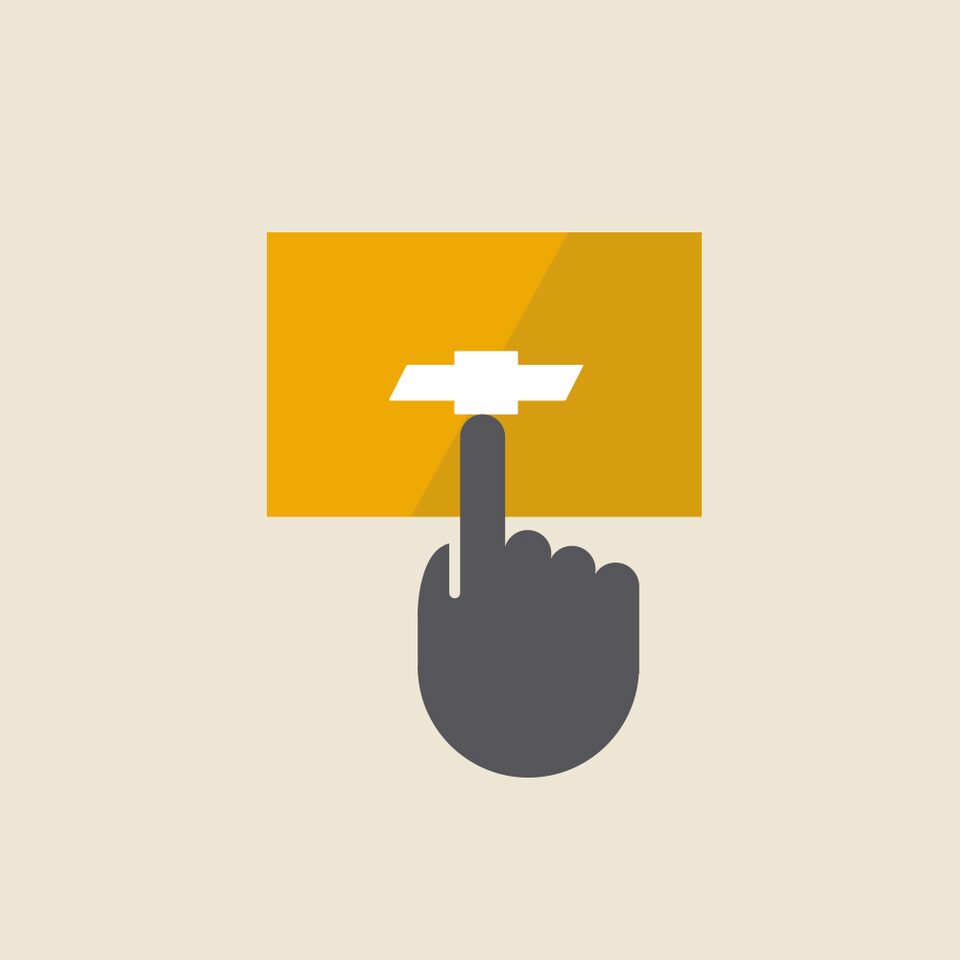 10.2-INCH DIAGONAL COLOUR TOUCH-SCREEN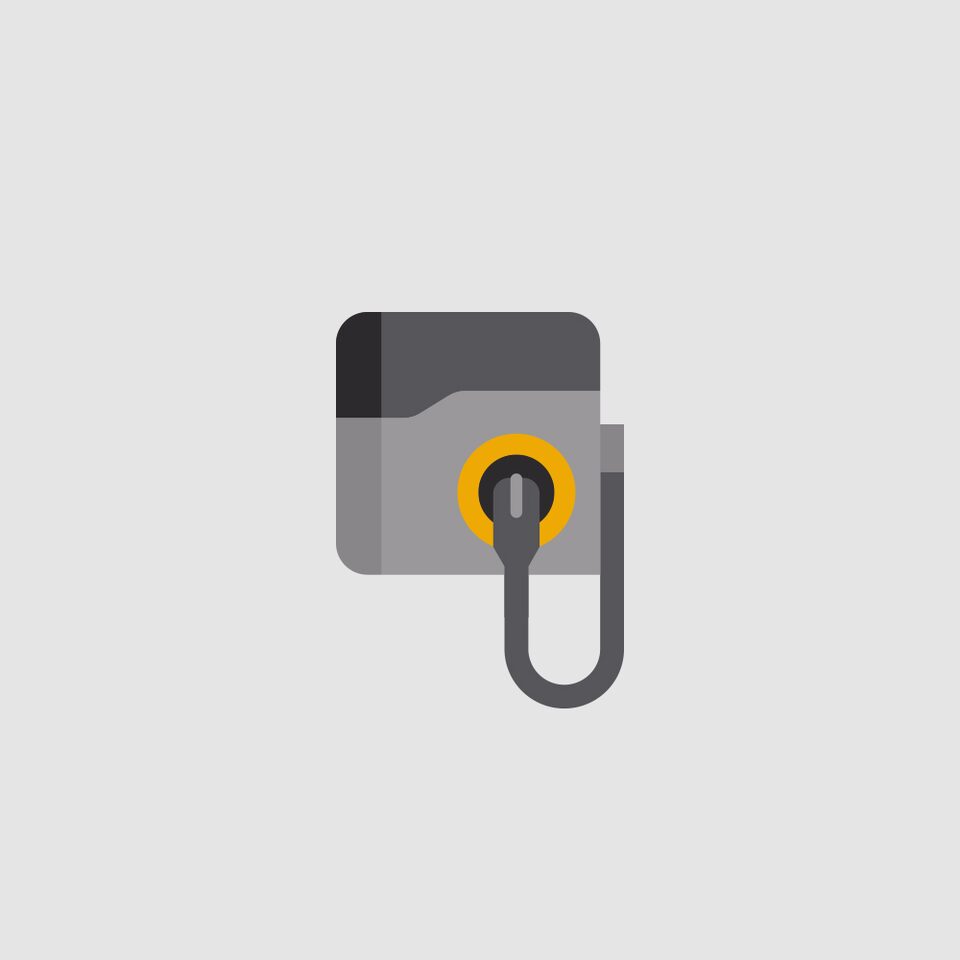 UP TO AN ESTIMATED 40 KILOMETRES† PER HOUR OF CHARGE WITH 240-VOLT/32-AMP CHARGING UNIT†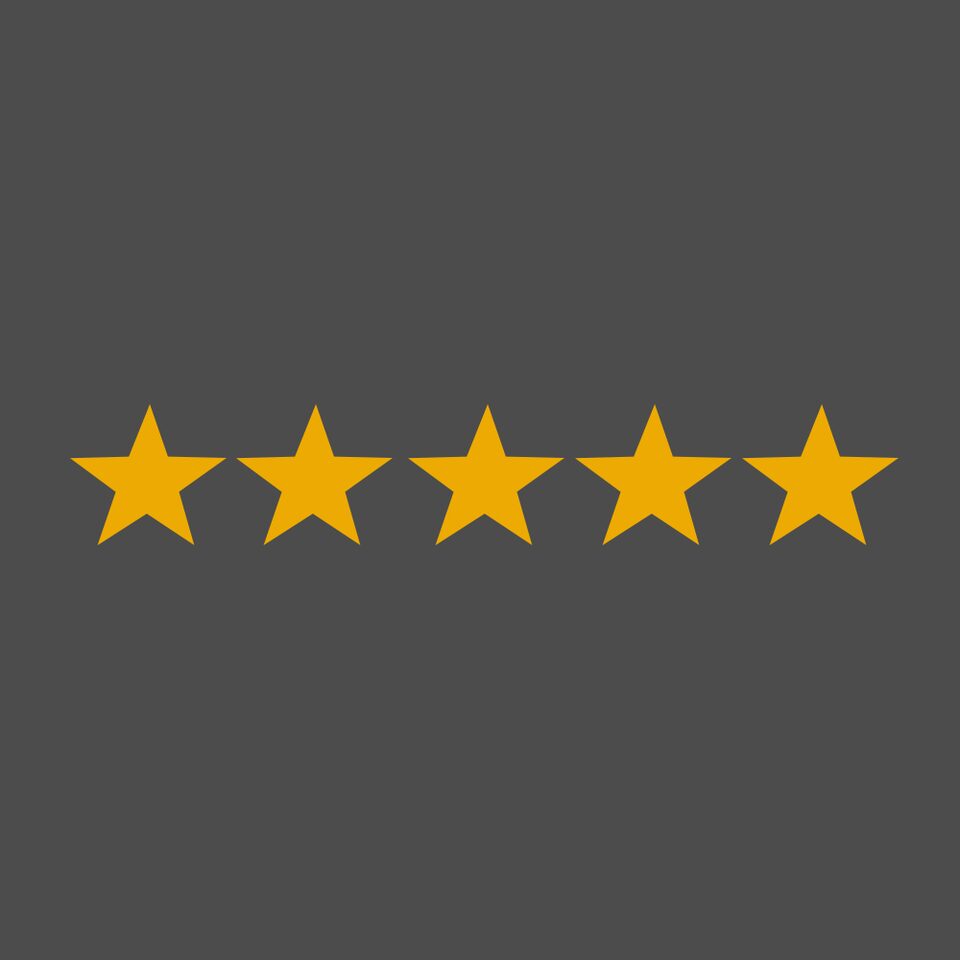 2021 NHTSA 5-STAR OVERALL VEHICLE SCORE FOR SAFETY†