Reserve the Silverado EV

The game changing, category-defying Silverado EV is coming, and you can be among the first to own one. While 2024 First-Edition RST reservations are full, you can still place a reservation for a Silverado EV, availability starting summer 2024. Trim, vehicle configuration and pricing will be finalized with your dealer at time of order.
Estimated MSRP starting around

Refundable Reservation Amount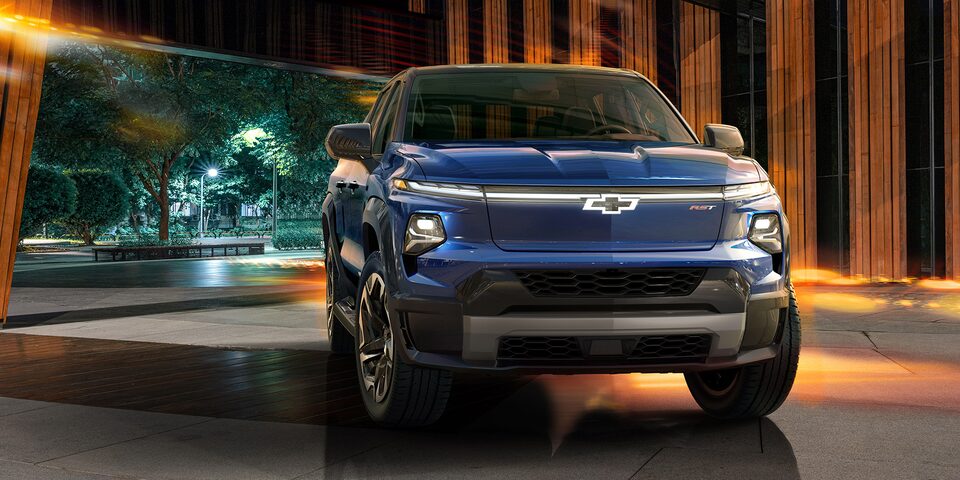 Silverado EV WT and RST

WT estimated MSRP starting at $39,900 + DFC† with optional features and content, including up to 20,000 lbs. towing capability.† Future variations will offer a range of MSRPs, from around $50,000, $60,000, $70,000, $80,000 and more, depending on selected battery range and available features such as Multi-Flex Midgate® with pass-through, panoramic fixed-glass roof, 4-Wheel Steer, and Wide Open Watts Mode – providing a wide variety of capabilities and pricing.
Available starting summer 2024

Full vehicle features, specs and colors to be announced closer to start of production.


Selections and final build to be made with dealer at time of ordering.
Silverado EV Fleet

Looking to get your truck fleet up to speed and ready for a smarter future? Check out how easy it is to modernize and energize your business with Silverado EV.
Performance targets, estimates and capability specifications based on computer-aided analysis and simulation using virtual engineering tools. Estimates may vary depending on model and trim. Actual production model and results may vary.

Final vehicle selections and configuration will made at the time you place an order with your dealer. A reservation does not guarantee vehicle delivery within any certain time. Dealer sets final price.

---
Reservation FAQs
A reservation gets you one step closer to owning an All-Electric Silverado. After you make your reservation, you will be contacted by your selected dealer to complete and submit an order, which is expected to occur several months before vehicle production date.

Yes, your amount is refundable if you cancel your reservation prior to completing and submitting an order with your selected dealer. You may cancel your reservation by contacting your selected dealer, by calling 1-833-EVCHEVY (1-833-382-4389), or by clicking here. After your cancellation request is approved, please allow several business days for refunds to be processed.

Make a reservation today through the online reservation process. The simple process will walk you through a few easy steps: choose your trim, choose your participating dealer, enter your information, and confirm your reservation agreement. Limitations may apply.
Please make sure you are hitting the "View Dealers" button. Doing so will populate a list of your closest participating dealers. Silverado EV reservations are available only in the 48 continental United States, Alaska or Hawaii at participating Chevrolet dealers.

Your selected dealer will contact you when it is time to place an order. At that time, you will confirm your order details such as the model year, color, trim options, and discuss the price of your vehicle and an estimated delivery date with your selected dealer.

If you were directed to a "Thank You" web page after submitting your reservation, then your reservation was successfully submitted. You will also receive a reservation confirmation email.

It may take up to 24 hours to receive your Silverado EV reservation confirmation email.
Your reservation agreement is available and can be printed or saved at the end of the online reservation process. If you did not save or print your reservation agreement at the time you submitted your online reservation, you may contact your selected dealer for a copy of your reservation agreement.
Please close your browser, clear your cache and try again.

You can manage your Silverado EV reservation here. This portal where you originally placed your reservation request. The portal includes the ability to cancel your reservation. If you require a change of dealership please contact a Chevrolet Specialist at 1-833-EVCHEVY (1-833-382-4389).

If you have questions, please contact your selected Chevrolet dealer or a Chevrolet Specialist at 1-833-EVCHEVY (1-833-382-4389).

Your Reservation ID can be found on the Thank You web page and in your reservation confirmation email. If you cannot locate it, please contact 1-833-EVCHEVY (1-833-382-4389).

Silverado FAQs
Silverado EV will be offered exclusively in Crew Cab models.

Standard DC Fast Charging† capabilities of up to 350 kW enable the Silverado EV First Edition RST to get GM-estimated 100 miles of range in only 10 minutes on public DC Fast Chargers. We will share more on Level 1 and Level 2 charging capabilities closer to launch.
When combined with the available accessory power bar, the Silverado EV PowerBase charging system offers up to 10 outlets, providing a total of 10.2k W of all-electric power for worksite or recreational needs with the required equipment. Silverado EV is also capable of charging another compatible EV using the available accessory charge cord, sharing its power in times of need.

Silverado EV will offer a range of towing capabilities from 8,000 lbs. to 20,000 lbs† depending on trim selection and battery size. Additionally, Silverado EV will offer an Advanced Trailering System with up to 14 different camera views†, 4-Wheel Steer, which offers great trailering dynamics, and Super CruiseTM† with trailering — the industry's first true hands-free driver-assistance technology, allowing drivers to travel hands-free on more than 200,000 miles of compatible roads across the U.S. and Canada.

Ultium is General Motors' groundbreaking all-new battery platform that brings with it new power, new force, new flexibility and, of course, a new range of possibilities. As configured on the Silverado EV, the Ultium platform's optimized weight distribution and low center of gravity help overall handling and enable the GM-estimated 400 mile range† with a full charge, GM-estimated over 660 horsepower† and over 780 lb.-ft.† of torque seen on the First Edition RST.
A major enabler of Silverado EV's technologies will be the brand's first application of Ultifi, a new Linux-based software platform. Developed inhouse at GM, it separates the vehicle's software from the hardware to enable rapid and frequent software updates. This will give drivers the opportunity to evolve their vehicles over time with new features, third-party integrations, and more frequent over-the-air updates. This means the ownership experience of a vehicle like Silverado EV changes and updates capabilities over time.

The Silverado EV will be packed with the latest technology. Upon entering the Silverado EV RST, drivers are met with a large 17-inch-diagonal LCD freeform infotainment screen, which is paired with a neighboring 11-inch diagonal driver instrument display. Together with a driver head-up display with a field of view over 14 diagonal inches, a driver can't ask for more information at their disposal. Additionally, with new hands-free start, the vehicle turns on automatically after the driver enters with an enabled device, leaving hands free to buckle up and get on the road. The Silverado EV was also thoughtfully designed for functional flexibility. The RST features a dual storage floor console with sliding cupholders and a storage capacity of just over 7 gallons!